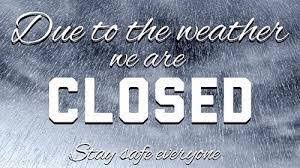 ATTENTION: THE LIBRARY WILL BE CLOSED MONDAY, FEB. 15TH DUE TO THE EXTREME COLD & WIND CHILLS AND WEATHER FORECAST FOR ADDITIONAL ACCUMULATING SNOW. PLEASE GET YOUR BOOKS AND DVD'S ON FRIDAY OR SATURDAY.
NO IN-PERSON GERIFIT AND NO LUNCH WILL BE SERVED ON MONDAY.
AS ALWAYS ON BAD WEATHER DAYS, CALL THE LIBRARY BEFORE TRAVELING IN, BE CAREFUL AND STAY WARM!